White Chocolate Lavender Mashed Potatoes
Recipe and Styling by Libbie Summers
Photography by Chia Chong
Recipe via Salted and Styled
Just the slightest sweetness from the white chocolate and the earthy floral from the lavender pump up the flavor of these mashed potatoes. A perfect side for any game, lamb, veal or a pan of roasted vegetables. For an extra layer of flavor try a drizzle of balsamic reduction over the top.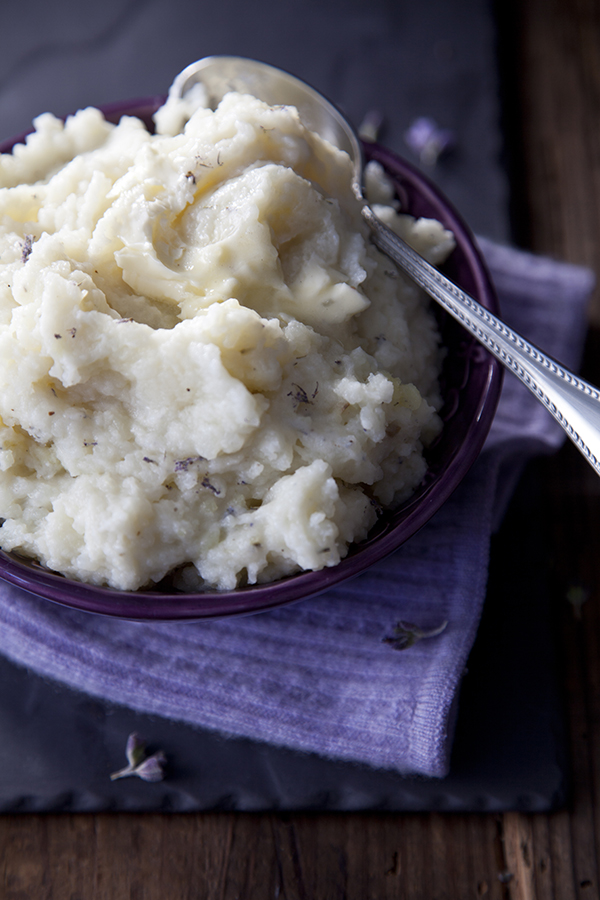 White Chocolate and Lavender Mashed Potatoes
Ingredients:
3 pounds russet potatoes, peeled and quartered
4 tablespoons butter
1/2 cup heavy cream
2 tablespoons chopped white chocolate
2 teaspoons crushed dried lavender buds
Kosher salt and freshly ground black pepper
Directions:
In a large saucepan, add potatoes and cover with cold water. Salt water with 1 teaspoon salt. Bring to a boil. Reduce heat and simmer, covered, until potatoes are easily pierced with a fork (approximately 15 to 20 minutes). In a small saucepan, add heavy cream, butter and white chocolate. Heat just until butter is melted. Drain water from potatoes and return to saucepan. Add the cream mixture and, using a potato masher, mash potato mixture until your desired consistency (add more butter or milk here if you like a creamier mashed potatoes). Stir in crushed lavender. Salt and pepper to taste.
Serves: 6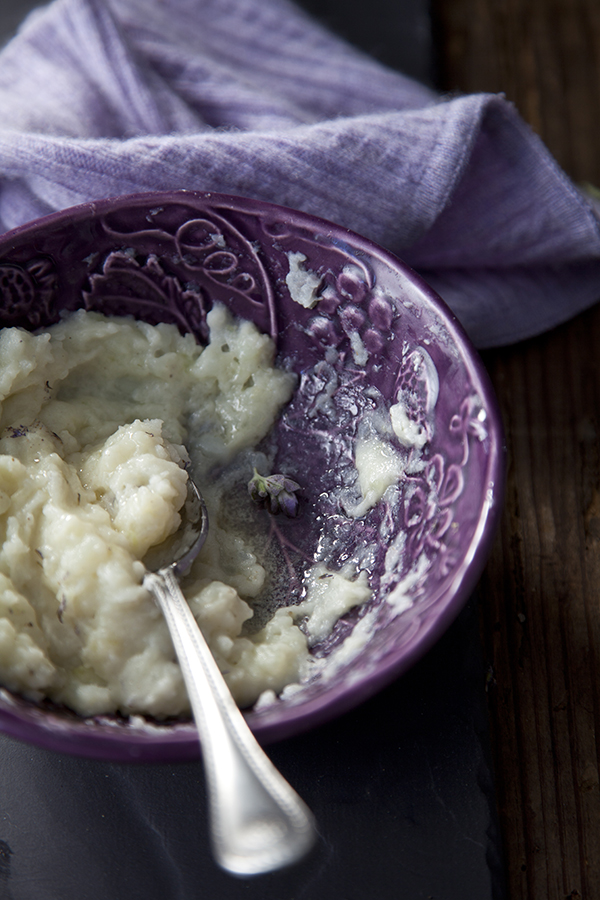 Libbie's Food Styling Props: Shot on a small piece of slate over wooden planks. Cloth under bowl is an old purple cashmere sweater I cut up. Spoon courtesy of Juliska. Purple bowl from Homegoods.