World's Best Onion Rings
Recipe by Brenda Anderson
Photography by Chia Chong
Styling by Libbie Summers
Recipe via Salted and Styled
When Brenda Anderson said she made the World's Best Onion Rings…we listened and learned.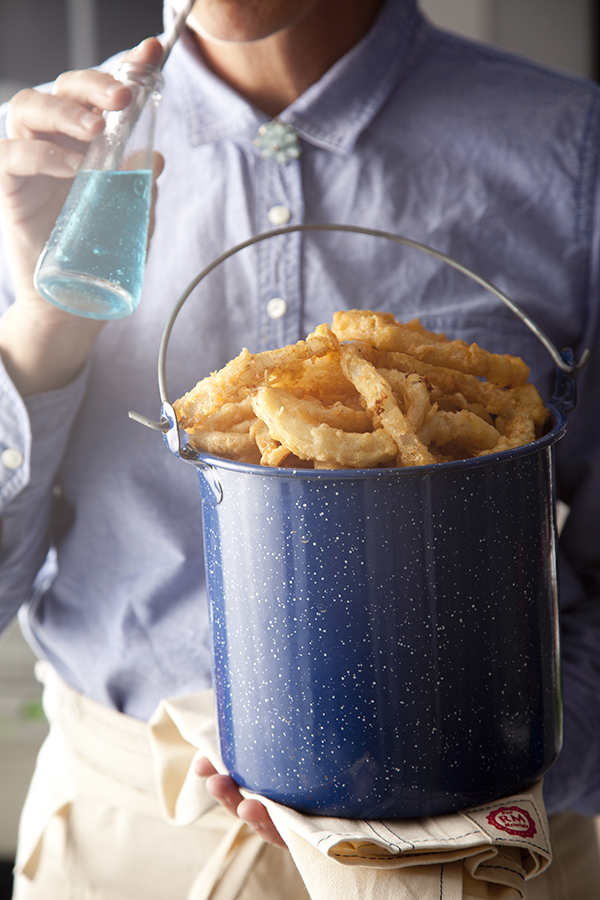 World's Best Onion Rings
serves: 2
Ingredients:
1 large Vidalia onion, sliced into 1-inch thick slices with rings separated
3 eggs, beaten
1 cup self- rising flour
1/2 (12 ounce) bottle of New Castle beer (or substitute with your favorite ale)
1 tablespoon kosher salt, divided plus more for seasoning after frying
1 ½ tablespoon garlic powder, divided
¾ tablespoon pepper, divided
2 1/2 cups vegetable oil
Directions:
In a zip-top bag combine flour 1 1/2 teaspoons salt, 2 teaspoons garlic powder and 1 teaspoon pepper. Shake to combine.
In a medium bowl beat eggs and add the remaining seasonings. In a second medium bowl pour the beer.
In a large skillet add oil and bring to 350 degrees F.
Dip onion rings into egg mixture, about 6 rings at a time. Then put rings into  the zip lock bag and shake until well coated. Remove rings from the bag one at a time and dip into beer then into hot oil. After two minutes turn rings and cook  until a little darker than golden brown (about 2 more minutes). Remove onion rings to drain on a paper towel lined plate. While hot, sprinkle with a pinch of salt. Serve immediately.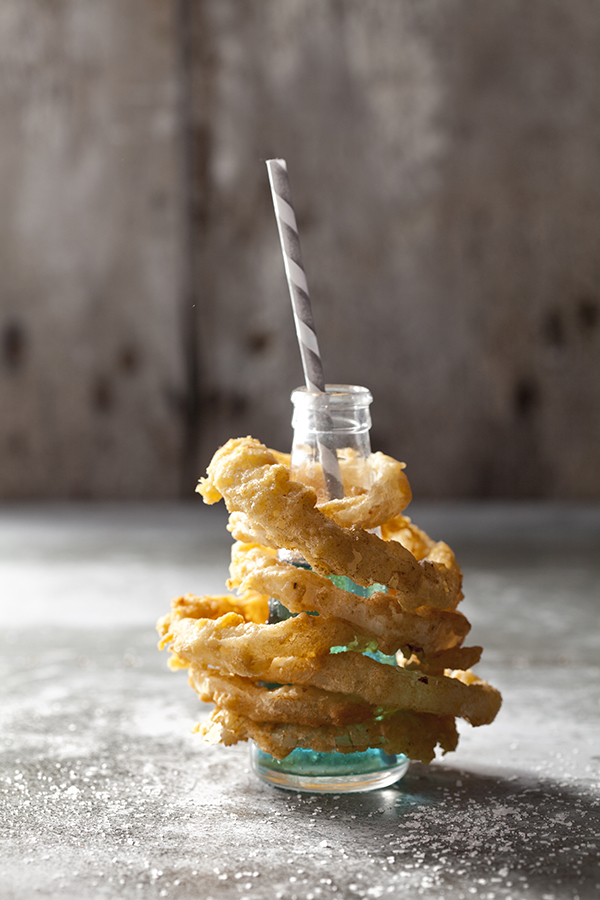 Libbie's Food Styling Props: Shirt J Crew. Neck brooch is a vintage earring. Blue enamel bucket from Habersham Antiques Market. Bottle is a Campari bottle I brought back from Italy. Straw from Kikkerland. Apron and hand towel from one of my new favorite designers Raw Materials Design.