Southern Peanut Soup
Recipe and Styling by Libbie Summers
Photography by Chia Chong
Recipe via The Whole Hog Cookbook
I've served this soup to 100 guests in the middle of a bird hunting field in South Georgia, in a quirky salon for the same amount of folks in NYC and in a private home for 1 US president in a place I'm not allowed to disclose. No matter the guest, place or occasion; this charming and a bit nutty soup is always the most talked about guest at the table.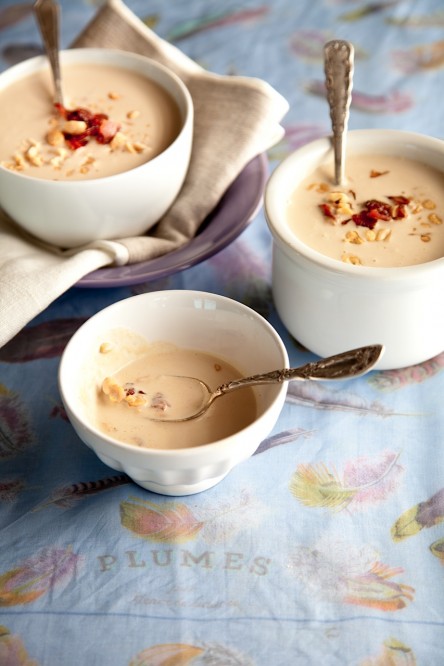 Southern Peanut Soup
serves 6
Ingredients:
6 slices Smithfield™ bacon, cooked crisp and chopped (reserve drippings)
1 medium sweet yellow onion, finely chopped
6 celery hearts with leaves, finely chopped
4 cups homemade chicken stock
2 tablespoons all-purpose flour
1 cup heavy cream
black pepper to taste
1 cup natural peanut butter
1 pint half and half
chopped peanuts for garnish
Directions:
In a large saucepan over medium heat, add two tablespoons reserved bacon drippings. Stir in onion and celery. Saute for 1 minute. Cover pot and reduce heat to low. Cook for an additional 15 minutes, until vegetables are soft and translucent.
In a medium saucepan over medium-high heat, add chicken stock and bring to a low boil.
Stir flour into the sauteed onion mixture and cook, stirring often, until golden with a nutty aroma. Add the hot chicken stock to the flour mixture in a slow steady stream, whisking constantly. Whisk in heavy cream until just heated through (approximately 5 minutes). Whisk in peanut butter until fully incorporated. Heat through (approximately 6 to 8 minutes). Whisk in half and half and heat through (approximately 5 minutes). Strain soup and ladle into bowls while hot. Garnish with chopped bacon and chopped peanuts.
Recipe from The Whole Hog Cookbook by Libbie Summers (Rizzoli), photography by Chia Chong.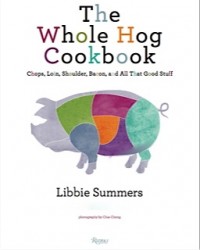 Libbie's Food Styling Props: Surface is a scarf from Hermes, Mismatched white bowls collected from all over, Cloth from Canvas Home, Purple ceramic bowl from I don't remember where, Vintage silver spoons from Habersham Antiques Market.